From Hairdressing Salon to Concorde Cockpit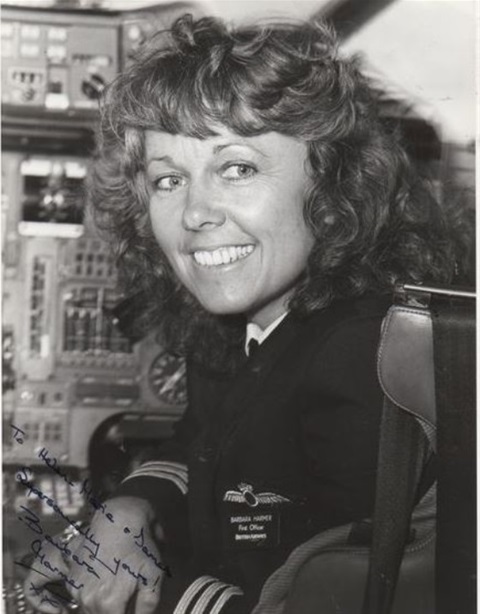 When she was just 15, Barbara Harmer decided to leave the convent school she was attending in the English seaside town of Bognor Regis. Yet to discover her passion of flying, she began a career as a apprentice hairdresser. But after five years, she realised she wanted more excitement in her life.
Harmer left hairdressing behind and went to work as a trainee Air Traffic Controller at Gatwick Airport. She also began to take flying lessons and after five years, obtained her private pilot's licence. One bank loan and several years' hard work later, she qualified as a commercial pilot aged 29.
The hard work didn't stop there, though: it took no fewer than 100 applications before Harmer found her first pilot's job. In 1984, she joined British Caledonian Airways, for whom she flew BAC One-Elevens for three years, before progressing to the long-haul McDonnell Douglas DC-10.
Supersonic trailblazer
In 1987, British Caledonian merged with British Airways and five years later Harmer earned her place in the record books as the first woman chosen to undergo the intensive six-month conversion course for Concorde.
After successfully completing the course, Harmer became the first qualified female Concorde pilot and made her maiden supersonic flight from London to New York in 1993. Eight years later, Air France pilot Béatrice Vialle became the second of only two women to ever fly Concorde on regular scheduled services.
Flying the legendary jet was a particular challenge. The aircraft used afterburners at take-off and to quickly gain altitude. After that, the afterburners were switched off to keep noise on the ground to a minimum. They were only switched on again at very high altitude to go supersonic and accelerate to the top speed of up to Mach 2.
During cruising without using the afterburners, the high speed left very little time for navigation. The final descent before touchdown had to be precisely timed, as Concorde's delta wings had no flaps.
Between them, Barbara Harmer and Beatrice Vialle made 35 trips between Paris, London and New York. "There's nothing else like it in the world," she once said about Concorde. "Even pilots stop and stare. It has an aura about it." (As one who flew Concorde from New York to London in 1991, I can certainly agree with that statement) !
But British Airways and Air France withdrew Concorde from service in 2003, leaving Harmer to fly long-haul flights for British Airways until the end of her active flying career. Sadly, Barbara succumbed to cancer in 2011, aged just 57.
Her ashes were scatterted from a Tiger Moth flown by Captain Les Brodie, who landed the last ever Concorde flight.
(Story from web site AIRBUS)