The Sad Passing of another WWII Fighter Pilot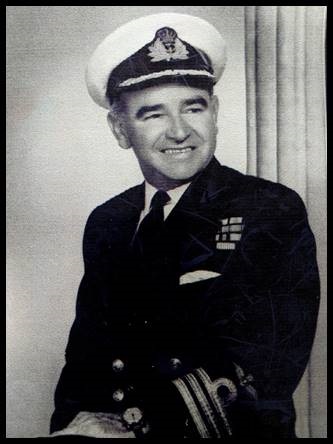 It is with great sadness that we must report the passing of Commander Nat Gould on Friday the 18th of January 2019. Nat has always been a great supporter of the Spitfire Association and participated in many of the Association's activities, including the air shows at Temora, the Darwin reunions and our Anzac Day marches.
Nat had an incredible life in the military, from flying Hurricanes in Russia, to flying Spitfires in Darwin against the Japanese and later spending many years in the Royal Australian Navy Fleet Air Arm. He then spent some years with Naval Intelligence in Canberra and then as a Consultant with Hawker de Havilland. Nat, in recent times, also had a great rapport with the Australian War Memorial.
Nat or as some of his mates call him Natski, has had a most extraordinary career and has flown 34 types of aircraft. Single engine, twin engine and helicopters, propeller and jet. (Author's note: The nickname, Natski was used after Nat served for a time in Russia).
The majority of hours in flying order, Hurricanes, Spitfires Mark VC's and Mark VIII, Seafires Mark III's and XV's, Seafurys and Fireflys, all single engine top line fighters and aircraft today.
Nat Gould collected mushrooms, scrimped and saved to learn to fly at Archerfield Queensland and at 17 years of age was granted an "A"licence. When war was declared he joined the RAAF, and was accepted into No 1 Course Empire Air Training Scheme. He graduated Sergeant and sailed for England December 1940. On arrival he was posted to 17 Squadron RAF flying Hurricanes in Scotland.
Nat's first sight of a Spitfire was in January 1941 when he had just arrived in the UK. He watched an RAF Squadron scramble from an airfield just north of London to intercept an incoming wave of German Bombers. However, it was to be some time before he actually flew a Spitfire.
Events now took a strange turn and his introduction to naval aviation was imminent. Nat was transferredto a new Hurricane Squadron No 134 and with No 81, prepared to go to Russia. They boarded "Argus",the first true aircraft carrier, commissioned in 1918 – rather crude when compared with later carriers. After a few frigid wet days, they were close to Russia but with no wind and a slow boat, take off was more than worrying.
They eventually took to the air but being inside the Arctic Circle, compasses were useless, Russian maps illegible and no land in sight. They lined up Argus and an escorting destroyer thus heading 180 degrees for Russia. The pre flightwas as follows: "Keep heading 180 degrees and after 1 and 1⁄2 hours you will hit Russia. You can't miss a big country. Turn right and soon you will see a big river. Follow that and there is "Murmansk".
The purpose of their trip to Russia was to show the Russians how to fly a fighter and be trained in fighter tactics and maintain the Hurricane. He was met with anti aircraft fire from his erstwhile allies and was lucky to evade the incoming fire before he landed somewhat resentful of his hot reception.
They stayed in Russia 5 months and fought with the Russians and escorted their bombers. Back to England for Xmas and to North Ireland flying Spitfire V's. The squadron was being equipped with Spitfires and he remembers being delighted with the aircrafts beautiful handling and response compared to the more robust characteristics of the Hurricane.
The squadron whilst in Northern Ireland was on rest, yet also to carry out protection of the vital convoys bringing much needed help to the UK. Here they had Mark II's and Va's.
As the Japanese were now threatening Australia's part of the world he was anxious to return home to help out. After a lot of time in transiting via Canada and the USA, Nat arrived in Melbourne on the 19th May 1942.
The 75 Squadron (Kittyhawks) had a torrid time in Port Moresby and returned to Australia (Kingaroy) to reform and Nat (as Pilot Officer) joined them in June 1942. Eventually they moved to a forward position, Milne Bay, New Guinea and carried out patrols, intercepting the Japanese Aircraft on many occasions. Life in continual wet humid conditions was hell. Malaria, Dengue fever, insects and medical problems. Flying conditions were not the best.
A strip of steel matting laid on water logged ground became covered in mud. A veritable skating rink amongst cloud covered high hills. Nat said that things were pretty dicey at this stage of the war. Squadron leader Peter Turnbull was shot down and killed soon after take off by Japanese ground fire. There were two airstrips, one not being used and the Japs got as far as the second one.
Nat was conducting strafing operations over the thick jungle canopy whilst guided by flares being sent up by the forward units of the Army. It was pretty brisk and sorties would last about 10 minutes. Later he was to learn that the squadron had provided excellent support to the army and the attrition rate on the enemy was very high. It was here that the Army finally clobbered them and the Jap's started their long retreat.
Whilst in this area of operation Nat tells an interesting tale about one of his exploits. The Japanese fleet was sighted on the 25th August as it was coming to invade New Guinea. 75 and 76 Squadrons, carrying 500 lb (230 kilograms) bombs attacked with some success, however the Japanese landed and for days the air force Kittyhawks flew day in and day out at tree top levels giving support to the Australian troops.
Nat's CO briefed them on what to expect and made it very clear that they were to concentrate on the troop ships which were supposed to be a more important target than the Jap cruisers and destroyers that accompanied the troops. The aim was to stop the enemy from landing.
Nat's aircraft was in heavy cloud and through a gap in the whiteout he spied a vague shape that appeared to be the Jap troop convoy. He and his fellow pilots peeled off and attacked and Nat thought that the anti aircraft fire was bloody heavy and the 8 inch guns were being used to shock us out of the air by concussion.
He pressed on and dive bombed what he though was a troop ship. His main idea was to get in and get out as quickly as possible hopefully all in one piece. On returning to base the CO met Nat with much excitement and congratulated him on his bravery in attacking and sinking a Flak ship but was misheard by records and Nat was erroneously credited as having sunk a FLAG Ship.
Late August, it appeared the enemy could take over 75 and 76 Squadrons evacuated to Moresby. From there, they continued their attacks until the Japanese re-embarked. Victory had been achieved, with the help of outstanding air support. 75 Squadron was withdrawn and Nat was transferred to Mildura.
Nat's first Spitfire flight was at No 2 OTU where he joined Keith Gamble's Spitfire Conversion Flight to convert the newly "winged" Wirraway pilots to their operational aeroplane and to teach them fighter tactics and battle formations.
After doing his time at Mildura Nat was fortunate enough to wangle a posting to 457 Squadron at Livingstone, Darwin where he spent many happy hours in the Spitfire Mark VC. Shortly after his arrival, he was posted to Drysdale, now Kalumburu, and the closest Australian strip to Timor.
On the 5th November, Nat and other members of "A" Flightintercepted a Japanese Dinah Reconnaissance plane and badly damaged it.
As it was now March 1944, the war was fast moving northwards so he saw very little action. Squadrons 452 and 457 (Spitfires) flew without escort to Perth. This move to Perth and a strange operation at Port Headland, when intelligence reported that the Jap fleet was sailing for Perth to knock out the American submarine base that was stationed there. When this did not eventuate the Squadrons returned back to Darwin later the same month in a more than dangerous flight. Nat's last operation was "Potshot", 10th to 25th May, 1944.
Nat left 457 Squadron on the 19 th August, 1944 and returned to Mildura, where he became unhappy there as although he was flying a lot he wanted to get back into the front line operations. Nat laughed and said, ""That it was more dangerous there from trainee pilots than in the front line". Funnily enough through a strange set of events Nat was indeed granted that wish.
On 17th June 1945 he shaved off his moustache, swapped his Flight Lieutenant's uniform for a Lieutenant Royal Australian Navy Volunteer Reserve uniform on loan to the Royal Navy. In no time he was flying off aircraft carriers with the Royal Navy.
His RAAF logbook shows he notched up 350 hours in Spitfires, in Mark II's, Va's, Vb's, Vc's and VIII and a rather strange two seat version of a Spitfire where he did circuits and landings from both the front and rear seats to judge the aircraft's suitability for training. His Navy Log Books record a further 213 hours in the naval version of the Spitfire, called the Seafire. With the end of the war, Nat with four other pilots was offered a short service commission in the Royal Navy and moved to England. He spent three years with the Royal Navy.
In September 1948 Nat transferred to the Royal Australian Navy Fleet Air Arm and stayed there 17 years until 1965. During this time he was fortunate enough to command 816 Firefly Squadron and 805 Sea Fury Squadron. This command was located at Naval Air Station, Nowra and in HMAS Sydney including a tour during the Korean war.
The number of specialist courses he attended and passed in England, USA and Australia, would fill pages amongst them: fully qualified flying and instrument instructor, many naval sea courses and qualified to wear paratrooper wings. (He completed over 20 jumps). The grand total of the Spitfire family is thus some 565 wonderful hours. A lot of take off and landings, said Nat. He then retired from the RAN as a Commander on the 4/5/65.
Nat said, 'For the record, 12 RAAF Pilots transferred to the RANVR, on loan to the Royal Navy in June 1945 and joined RN Fighter Squadrons flying off the large carriers, H.M.S. Indomitable, Indefatigable and Implacable. It may surprise some people to know that each ship had over 80 aircraft embarked, and so when we formed a task force of three carriers, we put up quite a formidable armada.
A further 12 pilots came across a few months later and I have the names of the whole 24 if anyone wants to know them. I flew over 200 hours in various marks of Spitfires, took a short service commission in the R.N. In 1946, transferred to the R.A.N. With a permanent commission in 1948 and retired in 1965. During all this, I was lucky to fly such great aircraft as the Sea Fury, Firefly, Gannet and others with over 200 deck landings, more or less in one piece. This a bit of a line shoot, but perhaps there are some who may not know that the RAAF did go to sea, albeit in dark blue uniform."
The Arctic Star Medal from the MOD Medal Office at Gloucester, England was also awarded to Nat for his service with the RAF in 1941.